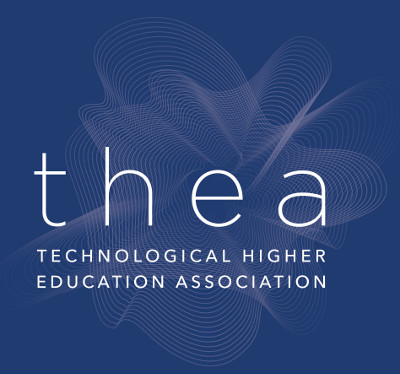 THEA welcomes announcement of €37.62m funding for 'National Technological University Transformation for resilience and Recovery' programme
THEA warmly welcomes the announcement by the Higher Education Authority (HEA) that the National Technological Universities Education and Training Reforms programme has been approved for funding of €37.62m over two years (2022-2024). The programme entitled 'National Technological University TransfOrmation for Resilience and Recovery' (NTUTORR) aims to deliver transformative change for the technological higher education sector and was proposed by a consortium comprising
Atlantic Technological University (ATU);
Dundalk Institute of Technology (DkIT);
Dun Laoghaire Institute of Art Design and Technology (IADT);
South East Technological University (SETU);
Munster Technological University (MTU);
Technological University Dublin (TU Dublin);
Technological University of the Shannon: Midlands Midwest (TUS); and
Technological Higher Education Association (THEA).
According to Dr Joseph Ryan, CEO of THEA: "This is a particularly significant milestone in the evolution of the Irish higher education landscape. It enables us, as a collaborative technological sector, to build on our collective learnings and experience delivering higher education throughout the pandemic. The pedagogical innovations that emerged during the pandemic provided a new - even more inclusive - model for higher education, enabled through digital technologies. These all inform a transformation of our learning, teaching and assessment practices, which this programme will help us to deliver over the next two years.
"Innovations, developed out of necessity, can now be leveraged to deliver a new learner-centred model for building critical capacity across society to become globally responsible citizens in response to the climate crisis and other societal challenges. This partnership recognises the role we play in Higher Education to evolve our curriculum to suppo rt our national recovery and develop sectoral resilience in order to address economic, environmental and social impacts but also to ensure a thriving and prosperous society.
"The NTUTORR programme will engage and empower learners from across society to develop skills, knowledge, and sustainability competencies through an inclusive digitally supported open access infrastructure which transforms learning and teaching across the sector. NTUTORR will also ensure that our educators themselves develop the skills needed to work effectively in a transformed teaching and learning environment. They will enable the technological sector to meet and address regional and national needs for digitisation, to cater for 21st-century learning and research, and to ensure that new Technological sector is sufficiently equipped to deliver the returns on the national strategic policy for Higher Education
"We look forward to working with our consortium partners and with the HEA and the Department of Further and Higher Education, Research, Innovation and Science to deliver this programme over the next two years."
-ends-
For further information please contact:
Róisín O'Connell, Head of Communications, THEA: (087) 9193333, roisin.oconnell@thea.ie
#NextGenerationEU
Notes to editors
The National Recovery and Resilience Plan (NRRP) has been developed by the Government so that Ireland can access funding under the EU's Recovery and Resilience Facility.
Ireland is expected to receive more than €900 million in grants over the lifetime of the Facility.
The Recovery and Resilience Facility is the largest component of NextGenerationEU, the European Union's response to the global pandemic. The aim is to help repair the immediate economic and social damage brought about by the pandemic and to prepare for a postCovid Europe that is greener, more digital, more resilient and fit to face the future.
The NTUTORR project is awarded under RRF Priority 3 – Social and Economic Recovery and Job Creation, and the funding will cover a two-year period between 2022 and 2024. The project will build Technological University capacity in education and training reforms, including the strengthening of effective active labour market policies by accelerating TU plans in the area of co-creation of research-informed teaching and learning through dynamic collaboration and open engagement between students, TUs and partners from industry, the professions, and civic society as part of a coherent response to existing and new challenges aggravated by and/or resulting from the COVID-19 crisis.
The Technological Higher Education Association (THEA) is the representative advocacy body for the technological higher education sector in Ireland.