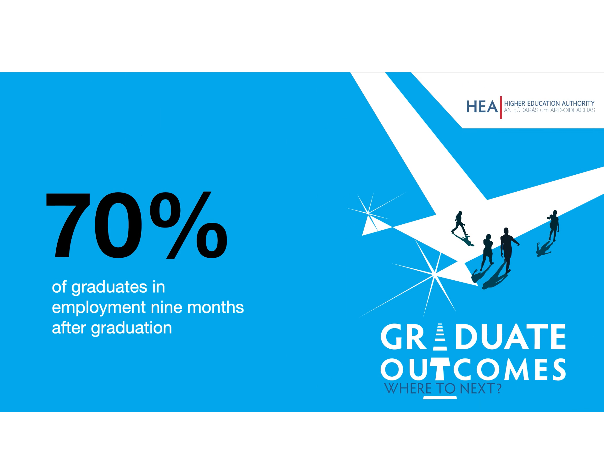 Statement from the Technological Higher Education Association (THE) in response to Higher Education Authority (HEA) survey report on graduate outcomes for Class of 2020
THEA welcomes the publication of this significant survey report published by the Higher Education Authority. It complements the knowledge gained from other HEA reports such as the spatial and socio-economic profiles of higher education institutions, progression analysis, completion rates, and the graduate earnings survey results. These data sets enhance our understanding of student profiles, of the benefits of higher education and the contribution that higher education graduates made to the economic and social fabric of society.
Developing and providing career-focused programmes in a timely and responsive manner ensures that graduates are not only equipped with the skills that employers want, but that when they leave college they do, in fact, make a successful transition to the workplace. It is this concern that drives the institutes of technology and the technological universities to respond to employers' needs in curriculum development, and to introduce taught programmes in cutting edge areas. Levels 6 and 7 courses are unique to the technological higher education sector and the outcomes for these graduates are particularly positive, with more than 94% of these graduates in employment, about to start or continuing education.
It well understood that the class of 2020 were challenged in unprecedented ways. Fieldwork on the GOS took place in March 2021, at a time when the country was still experiencing a full pandemic lockdown, with all non-essential retail, construction and hospitality closed. The effects of the pandemic are clear in the survey report which allows us to compare results year on year and shows the overall increase in unemployment across most fields of studies when compared to previous years. It is a valuable insight into the economic and social impact of the pandemic on Ireland's newest graduates. We look forward to seeing this impact reduce as we move towards fieldwork for 2021 graduates and the rising optimism around the current economic outlook.
-ends-
For further information please contact:
Róisín O'Connell, Head of Communications, THEA: (087) 9193333