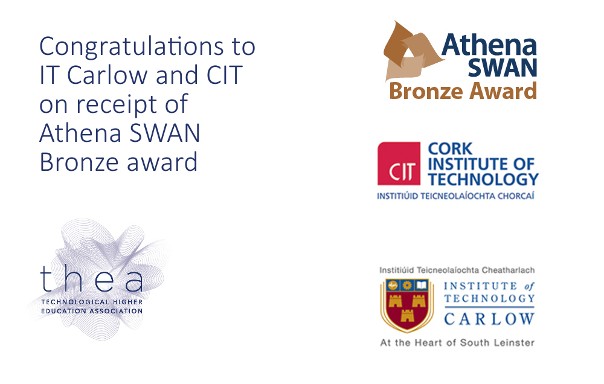 The Technological Higher Education Association (THEA) congratulates It Carlow and CIT on the success of their submission for the Athena SWAN bronze award and congratulates the teams who worked on these.
Advance Higher Education's Athena SWAN Charter was established in 2005 to encourage and recognise commitment to advancing the careers of women in science, technology, engineering, maths and medicine (STEMM) employment in higher education and research. In May 2015 the charter was expanded to recognise work undertaken in arts, humanities, social sciences, business and law (AHSSBL), and in professional and support roles, and for trans staff and students. The charter now recognises work undertaken to address gender equality more broadly, and not just barriers to progression that affect women.
Statement from Dr Joseph Ryan, CEO, THEA: "As a sector, we fully support all initiatives that support the advancement of gender equality across all functions in our technological higher education institutions. This was one of the drivers behind our own 'Gender and Diversity Statement' which we launched in August 2017 and which outlines a commitment by all technological higher education institutions to ensure equality of access to education and opportunities for career advancement to all persons regardless of gender.
"Assisting our institutions in achieving Athena SWAN awards is a big priority of THEA and we have actively supported the sector through their preparation for application by running information sessions and workshops throughout the sector with funding from the Athena SWAN national committee.
"It is significant that the two institutions who have been awarded the Athena SWAN award in the latest announcements are themselves working towards designation as technological universities, one in Munster and other in the south east. It is a testament to the hard work and commitment of both project teams that they have been successful in this respect and we will support them in progressing through the Athena SWAN charter. Our congratulations to both institutions"
-ends-