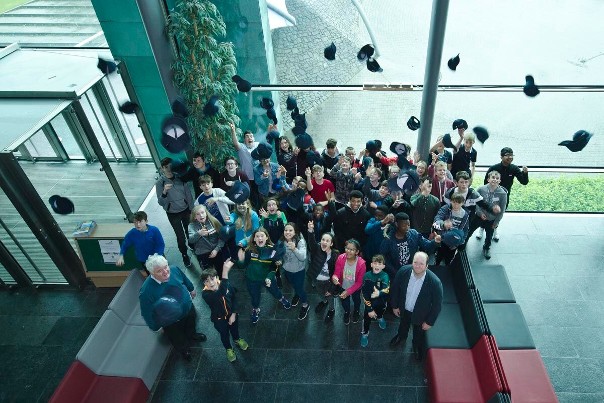 GMIT School of Business is pleased to once again run a free Young Entrepreneur Summer Camp for 40 young people from 9 to 13 July at the Galway campus. The summer camp is part of an initiative introduced last year by the Minister for Education & Skills Richard Bruton and funded by the Higher Education Authority (HEA).
Kevin McDonagh and Ivan McPhillips, lecturers in Enterprise, Creativity and Innovation, will lead the delivery of the camp from the GMIT Innovation Hub at the Dublin Road, Galway campus. The programme is for young people in Galway city and county, aged 12 to 17 years. It will run from Monday 9 July to Friday 13 July, from 10am to 4pm (except Friday – 10am to 1pm). Participation is free and lunch /refreshments are provided each day.
The course is designed to meet a key objective of the National Skills Strategy 2025, ie the promotion of entrepreneurial thinking and design skills among secondary school pupils.
Kevin McDonagh and Ivan McPhillips have many years of experience in mentoring and encouraging GMIT students to participate in national and regional competitions, with students achieving first place on many occasions. Enterprise and innovation modules are a common feature across all GMIT's business programmes. The GMIT Entrepreneur Summer Camp will help pupils to develop ideas and present them to a panel of judges at the end of the summer camp. The programme will span idea generation to commercialisation, and involve workshops, lectures, guest speakers, practical exercises, field trips, and a site visit.
The programme will be delivered by experienced GMIT lecturers with the assistance of guest experts and entrepreneurs.
Ivan McPhilips, lecturer in Enterprise, Creativity and Innovation, says there was a great response to last year's inaugural summer programme: "This is the second year that GMIT School of Business has run this programme. In 2017 we had 49 students drawn from 16 secondary schools across the city and county. Our idea for this summer school centres on providing 40 participants with all the key elements required to generate and develop a business idea. In addition to delivering the key content in bite-sized pieces Kevin and I hope to stimulate participant creativity through examining recently developed business ideas, involving guest speakers, and through practical hands-on exercises. We will facilitate the students in developing their ideas and bringing these ideas to a level where they are presentable to a panel of judges in a Dragons Den format on Friday 13 July between 11 and 1pm."
For more information and to apply, please contact kevin.mcdonagh@gmit.ie tel. 091 742340 or ivan.mcphillips@gmit.ie tel. 091 742608. Closing date for applications is Monday 2 July, 5pm.
For information on GMIT School of Business programmes, see: https://www.gmit.ie/business/school-business
ENDS

Pupils who took part in last year's GMIT's Young Entrepreneur Summer Camp in GMIT Galway, with Business School lecturers Kevin McDonogh (right) and Ivan McPhillips (left).