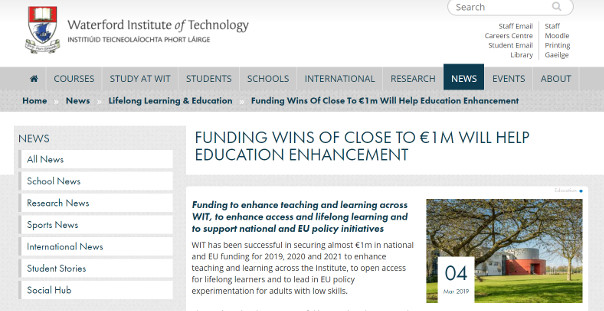 The Institute has been successful in securing almost €1m in national and EU funding for 2019, 2020 and 2021 to enhance teaching and learning across the Institute, to open access for lifelong learners and to lead in EU policy experimentation for adults with low skills.
The funding has been secured from the HEA – New Higher Education Innovation and Transformation Fund 2018, Erasmus+ , and the National Forum for the Enhancement of Teaching and Learning
"We are delighted with our success in securing both national and EU funding in a highly competitive funding arena. These new sources of external funding will enable us to explore and develop innovative access routes for lifelong learners, enhance supports for lifelong learners and further develop our approach to teaching and learning in a changing national and European environment," said Dr Helen Murphy, Head of the School of Lifelong Learning and Education at WIT
National Seminar Series
WIT has secured funding for 7 national seminars from the National Forum for the Enhancement of Teaching and Learning in Higher Education as part of the 2018-2019 National Seminar Series. The seminars will take place in the Institute during 2018 and cover a range of topics from ePortfolios to Educational Leadership.
Some of the guest speakers of the seminars include Professor Elspeth Jones (Emerita Professor of the Internationalisation of Higher Education, Leeds Beckett University); Professor Meg Benke (Empire State College, New York) and Dr. Naomi Winstone (Director of the Surrey Assessment and Learning Lab at the University of Surrey).
HEA Innovation Fund 2018
The School of Lifelong Learning and Education has secured €470,000 to lead a project to create a portal for lifelong learners to engage with RPL (the recognition of prior learning) to facilitate access and accelerate progression to WIT programmes.
Erasmus+ Funded EU Policy Project
The School of Lifelong Learning and Education is the lead research partner in an Erasmus+ project that will develop tools to assess skills amongst adults with low skills with a view to progression to further education or employment. Funding secured is €195,000 project partners are the Department of Education, Malta, the National Adult Literacy Agency Ireland and Fonix, a Norwegian vocational skills organisation.
National Forum for the Enhancement of Teaching and Learning in Higher Education
In the region of €150,000 funding was announced for WIT recently through National Forum funded projects. They are:
Pathways to increase retention through early at-risk prediction modelling, WIT
This project will focus on using data to identify students that are at risk in the Computing and Mathematics Department in WIT and to put in place intervention to support the success of these students. (€90,500) WIT Researchers Dr Kieran Murphy, Dr Aoife Hennessy, Mr Mark O'Dowd, Dr Richard Hayes
A Profile of Skills for Teachers of Language in Higher Education
University College Cork, Waterford Institute of Technology, Dublin City University, Maynooth University.
This project will profile language teachers in the higher education sector and develop a tool to evaluate their professional development needs. Using resources already developed in the National Forums' Digilanguage project, the team will provide a range of professional development opportunities specifically for language teachers across the sector. (€21,000) (Total Project funding: €142,393) WIT Researcher Dr Aine Furlong
Every Contact Counts: Recruit prison officer education, capacity building on the Higher Certificate in Custodial Care, Waterford Institute of Technology, Irish Prison Service
Working in an innovative partnership between Waterford Institute of Technology and the Irish Prison Service, the project team will develop professional development opportunities to enhance the confidence, both of WIT staff and senior prison staff by developing their knowledge, skills and competencies in teaching and curriculum design for work-based, blended learning programmes. (€41,500) WIT Researchers Dr Fionnuala Brennan and Cathal Ryan.