Lyrical Bodies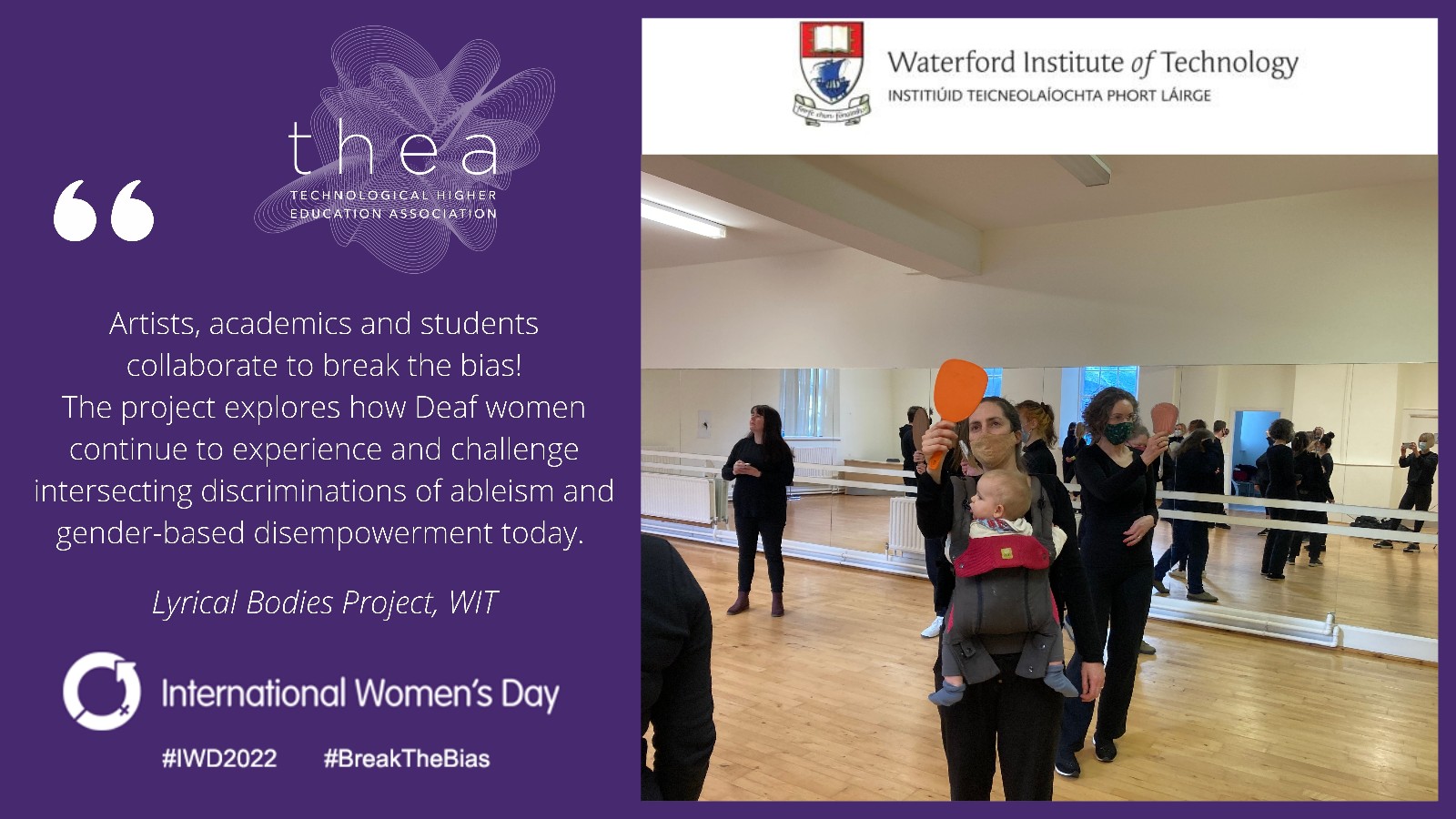 Artists, academics and students collaborate to break the bias at WIT!
Dr Úna Kealy and Dr Kate McCarthy co-lead the Performing the Region (PtR) research collective which researches theatre practice and literature emanating from the South East of Ireland and which generate academic publications and creative work including performance work, poetry, short stories and digital stories. PtR research involves recouping theatre work, dramatic scripts, literary texts and archival research material, often authored by women, that has received little critical attention or is not widely publicly accessible. The research group shares findings through creative practice, literary and dramatic readings, public talks, lectures and workshops, conference presentations and academic publications.
A current project is Lyrical Bodies: led by Dr Úna Kealy the project is funded by the WIT Equality, Diversity and Inclusion fund and WIT Research Connexions fund. Project team members include WIT academics Dr Kate McCarthy and Dr Jenny O'Connor and independent academic and internationally recognised performance artist Dr Amanda Coogan, artistic directors of Dublin Theatre of the Deaf Ms Alvean Jones & Ms Lianne Quigley, Irish Sign Language interpreter and theatre maker Caoimhe Coburn-Gray and WIT Theatre Studies staff and students.
Lyrical Bodies considers how Deaf women were dispossessed of status, achievement, and opportunity by the introduction of oralism in Deaf education in Ireland in the 1950s, and how Deaf women's oppression and resistance to the usurping of power, status, and human rights continues in 21st century Ireland. The project explores how Deaf women continue to experience and challenge intersecting discriminations of ableism and gender-based disempowerment today. Lyrical Bodies, in its exploration and sharing of Deaf women's experiences of intersectional discrimination, seeks to challenge and change for the better Irish society's framing, treatment, inclusion, and respect for people of various abilities and genders.
Discussing the important partnership with Dublin Theatre of the Deaf, Dr Kealy said, "WIT is excited to work with Dublin Theatre of the Deaf which is, for us, the most interesting and innovative Irish theatre company within the Irish theatre landscape currently. The fact that we get to pool resources, expertise, enthusiasm, and research offers an enormous advantage to everyone involved. Our Theatre Studies students within the BA Arts degree, in particular, will really benefit from the collaboration."
Lyrical Bodies aims to expose casual, erroneous, and discriminatory assumptions related to disability using Deaf history and culture to reveal and interrogate how systemic issues and attitudes insidiously perpetrate discriminatory behaviour. Lyrical Bodies will contribute to increasing awareness, inclusion, and respect for those who experience and express themselves differently to hearing communities and will enhance awareness and respect for artwork of various disciplines as created by those whose experience of the world is sensorially different.