Dr Tracy Fahey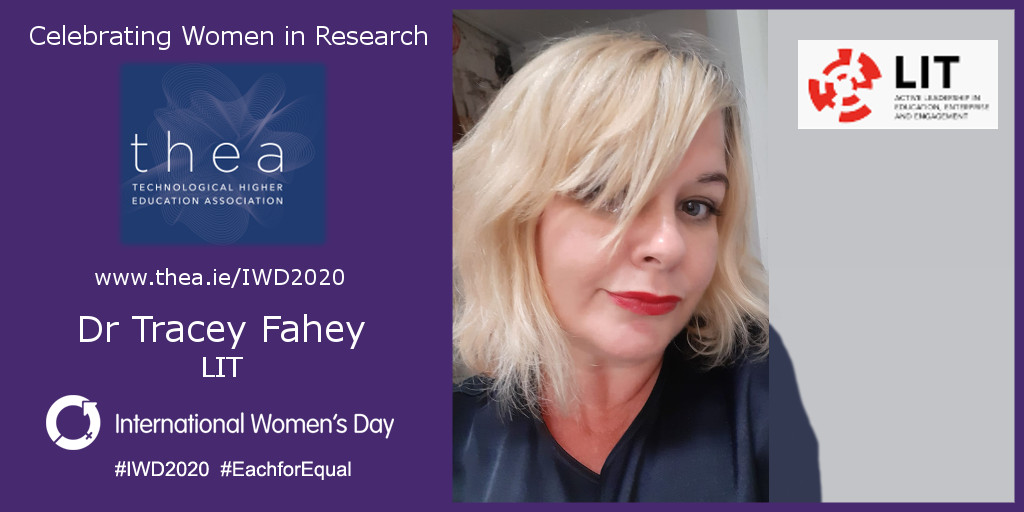 International Women's Day 2020: Dr. Tracy Fahey is Head of Department in Fine Art at LIT
Dr Fahey runs the research centre ACADEMY in Limerick School of Art and Design, LIT. She has previously worked as Head of Department of Humanities, IT Carlow and Head of Faculty of Design, Griffith College Dublin. She is a member of the advisory boards of the Centre for Research in Popular Culture, AUT, Auckland and the Centre for Studies in Otherness, Denmark. She is also Assistant Editor (New Writing) for the Revenant Journal, University of Falmouth and a member of the Editorial Board of Iterations, the Irish design research journal. She is a former Past President of the Institute of Designers in Ireland and former Board member of Design Ireland, the Institute of Design and Disability, the Hunt Museum Limerick and Limerick Printmakers.
She holds a PhD in Gothic in visual culture, and has published research on this area in Irish, UK, US, Italian, Dutch and Australian journals and collections. She has also published on transgressive art, medical Gothic, pedagogy and sustainable design. Since 2011 she has directed an art collective in Limerick who have run funded projects in art, site and narrative, including art-walks, memory projects, death cafes, and Gothic festivals.
Fahey is also a fiction writer, her debut collection; The Unheimlich Manoevure (third edition forthcoming in 2020) was nominated for a British Fantasy Award in 2017. Seven of her stories have been long-listed by US editor Ellen Datlow for The Best Horror of the Year, with another story, 'That Thing I Did' receiving an Honourable Mention in the 2019 volume. She has also published a novel, The Girl In The Fort (Fox Spirit Press, 2017) and New Music For Old Rituals (Black Shuck Books, 2018). Her short fiction has appeared in over 20 Irish, US and UK anthologies. She has been awarded residencies in Ireland and Greece.