Dr Rita Scully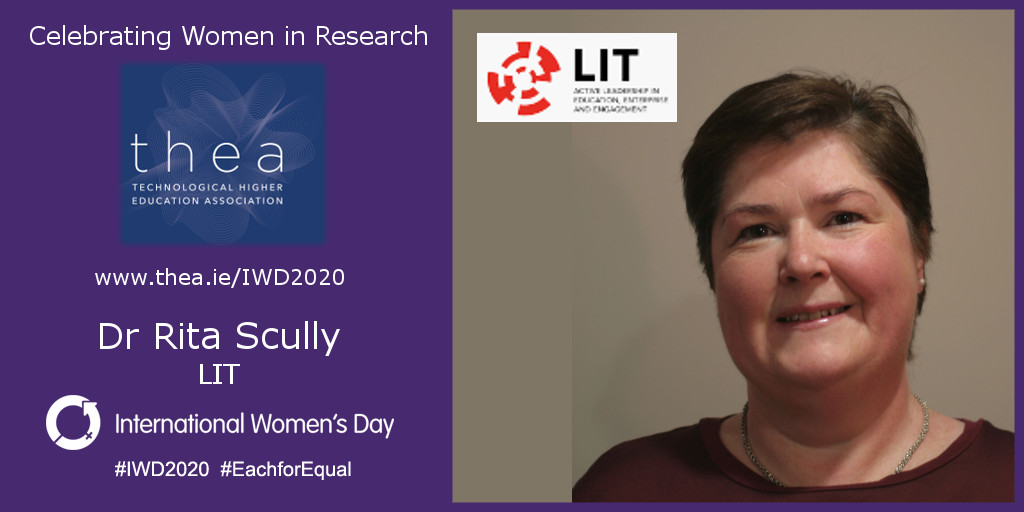 International Women's Day 2020: Dr Rita Scully, Lecturer in the Department of the Built Environment; LIT
Dr. Rita Scully graduated from a quantity surveying (QS) undergraduate programme in LIT in 1993 and then commenced working in the construction industry in Ireland. Over the following 10 years she was employed with a number of quantity surveying companies. In 1995 she successfully completed the Chartered Quantity Surveyor assessment. Her industry career culminated in being appointed Regional Director with Regerson Reddan & Associates in 2002. During her time as Regional Director with Regerson Reddan & Associates she headed up a Limerick based office of 5 staff and was part of the management structure for 28 staff with offices in Dublin and Portlaoise.
In 2003 Dr. Rita Scully joined the academic staff of LIT in Quantity Surveying. She commenced a part-time Masters in IT Management – Distance Learning through University of Salford in 2004 which was successfully completed in 2006.
In 2007 Dr. Scully commenced a part-time PhD in Knowledge Management. During the PhD process she had a number of journal articles published and presented at numerous conferences in the fields of Knowledge Management and the Built Environment. The conferences she presented at included:
UK Academic Conference on (Building Information Modelling) BIM
The Construction, Building and Real. Estate Research Conference – COBRA
10th International Conference on Information Technology and Telecommunication
She also published two books:
2013 Implementing a Knowledge Sharing Roadmap in Small and Micro Companies, , Dr Rita Scully, Scholars Press, 9783639703917
2009 Building Quantities Explained – Irish Edition, 2009, Edited by Alan. V. Hore, Maria O' Kelly and Rita Scully, Palgrave McMillan, 9780230580145
Dr. Scully successful completed her PhD in 2012.
Dr. Scully's active involvement in research has continued througth a number of a research ventures:
Maths Passport Series
The development of a Maths Bootcamp for First Year students in the Built Environment in Limerick Institute of Technology
MathE – European Maths skills development
CLIL4STEAM Erasmus+ Strategic Partnership for School Education
Mid-West Regional Skills Forum
Dr. Scully's skills and abilities have also been recognised by others both inside and outside Limerick Institute of Technology. She joined the Research Ethics Sub-Committee in March 2016 and became Vice-Chairperson in September 2017.
She has been selected in Limerick Institute of Technology for the AURORA Leadership Programme in October 2019.
She is a Fellow of the Society of Chartered Surveyors Ireland, this professional organisation would be the most prestige's in the surveying profession in Ireland.
To date she has been an external examiner to Cork Institute of Technology 2010 – 2014 and is currently and external examiner to Waterford Institute of Technology since 2017.
Throughout her academic career she has endeavored to keep Research to the forefront. Having successfully reached the highest professional levels available to her in Industry, Fellow of the Society of Chartered Surveyors, she undertook to reach the same heights in the field of academia.
She has strived to bring meaningful research into her teaching and also identified students' needs that required addressing through the development of website resources, training pamphlets and books for their assistance.