Dr Maura Clancy, LIT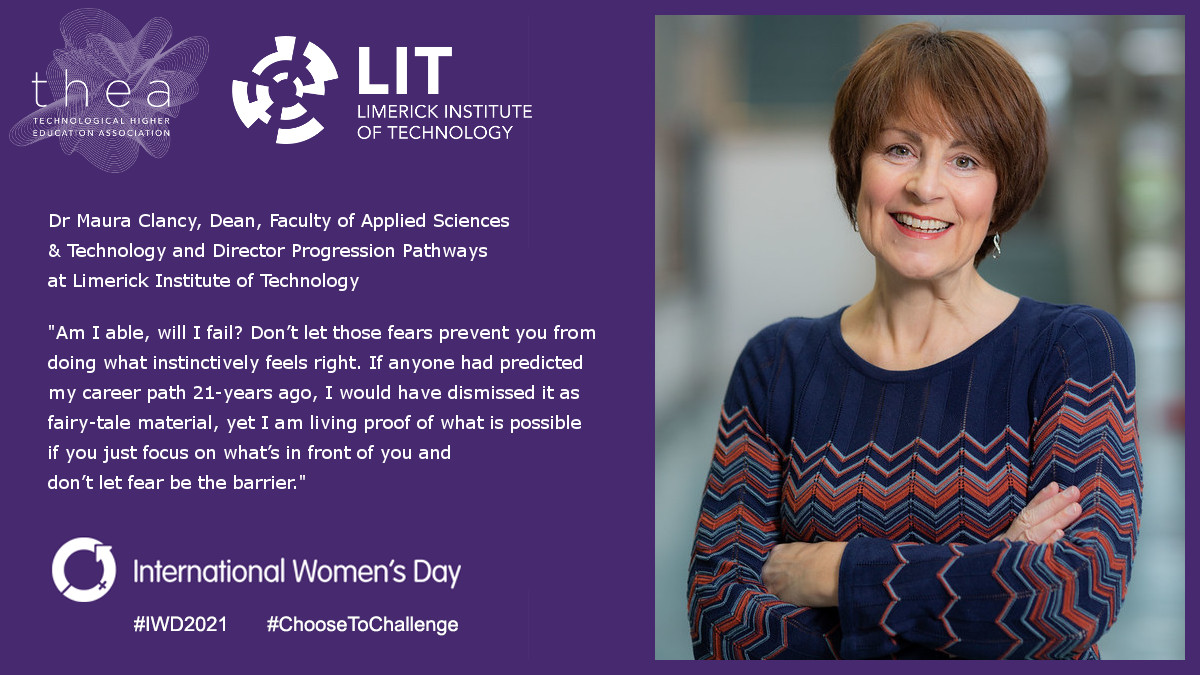 Dr Maura Clancy, Dean, Faculty of Applied Sciences & Technology and Director Progression Pathways, LIT
Dr Maura Clancy is Limerick Institute of Technology's newly appointed Dean, Faculty of Applied Sciences & Technology and is also the institute's Director Progression Pathways.
An advocate of lifelong learning Dr Clancy's career path is testimony to the fact that neither gender, age nor lifestyle should be an obstacle.
Dr Clancy believes, "Education is life changing at any age and we need to get that message out there."
Maura studied at the Galway-Mayo Institute of Technology (GMIT), graduating with a diploma in Business Studies.
It was the 1980s and Ireland was commonly referred to as "the sick man of Europe". Recessionary times equalled minimal job opportunities, and even more so for a mother of young children.
After taking a three-year career break, to be at home with her children, Maura applied for numerous jobs. Following an interview where the prospective employer said, "you're exactly what we want but we're not hiring you, because… measles, mumps and school plays", she decided "if no one will employ me, I will employ myself".
And she did. "I set about establishing a business. There were so many difficulties to overcome: age, gender, finance, lack of experience, family commitments, but that only made me more determined."
Maura's children were aged three and one when she opened her business. She could not afford childcare, so she brought the children to work with her every day!
"Those early years were so challenging; any businessperson will tell you it's a 24/7 commitment. Then there is the additional guilt element "this is so unfair on the children", but I would like to dispel this myth: lead by example, inspire "and as we let our own light shine, we consciously give other people permission to do the same" (1994 Inaugural Speech of Nelson Mandela)."
Then after establishing and running her own businesses for many years, Maura returned to full-time education in 2000. She studied mathematics and English at the National University of Ireland, Galway (NUIG) culminating in a Ph.D. in Mathematics in 2009; she was also awarded an Irish Research Council scholarship to carry out research in Mathematics.
Dr Clancy has worked in the area of engineering mathematics and statistics for the past 12 years. She specialises in algebraic topology; her doctoral thesis, entitled Explicit Small Classifying Spaces for a Range of Finitely Presented Infinite Groups, unearths classifying spaces for a range of finitely presented infinite groups, and uses these spaces to deduce homological information on the groups.
Maura served as Director of the Maths Support Centre at NUI Galway from 2009 to 2011, and developed maths and statistics support modules for the School of Mathematics, Statistics and Applied Mathematics. She also served as a mathematics consultant for a project with Anne Shannon & Associates LLC, Oakland, California, in conjunction with the University of Nottingham and UC Berkeley, which aimed to improve the standard of mathematics and statistics teaching in American Schools.
Maura is involved nationally with the drive to improve the teaching and learning of mathematics and statistics at all levels and is a member of the Irish Mathematics Learning Support Network (IMLSN).
She taught mathematics and statistics in the Department of Electrical & Electronic Engineering at Limerick Institute of Technology since 2012. Maura was appointed Head of Department in 2019, and Dean for the Faculty of Applied Sciences and Technology/Director of Progression Pathways in 2021.
"Am I able, will I fail? Don't let those fears prevent you from doing what instinctively feels right. If anyone had predicted my career path 21-years ago, I would have dismissed it as fairy-tale material, yet I am living proof of what is possible if you just focus on what's in front of you and don't let fear be the barrier."
- Dr Maura Clancy, Dean, Faculty of Applied Sciences & Technology, LIT.
Maura sold her business in 2000 to return to education; graduated with a PhD in 2009, and in 2020 was appointed Dean, Faculty of Applied Sciences & Technology, LIT.
#IWDResilience #ChooseToChallenge