Dr Marion McAfee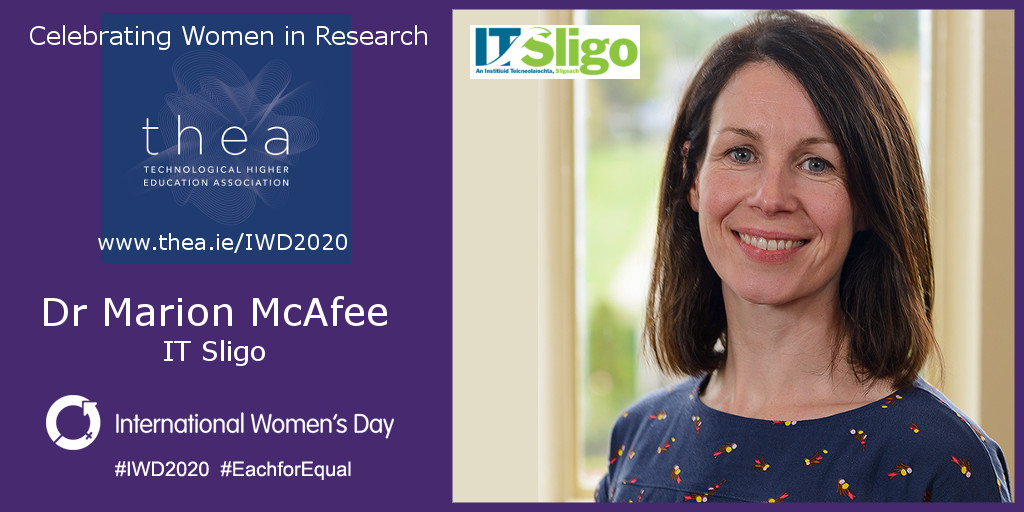 International Women's Day 2020: Dr Marion McAfee, Lecturer in the fields of Engineering Dynamics and Control, IT Sligo
Marion McAfee graduated with a PhD in the area of process control from the School of Mechanical and Aerospace Engineering at Queen's University Belfast (QUB) in 2005. Since then she has developed considerable expertise in the monitoring, modelling and control of dynamic systems – particularly in manufacturing. She has held lecturing positions in QUB and IT Sligo and also served as an acting Head of Department in IT Sligo in 2018. Dr McAfee is also the Project Lead for the 'Sligo Engineering Fair', an annual one-day festival for the promotion of engineering to young people and their families, for which she secured funding from SFI and from local industry.
She has been the Principal Investigator or Co-Principal Investigator on externally funded grants totalling over €4M awarded by the EPSRC, Royal Society, EU Framework Programme, SFI and Enterprise Ireland. She was a founding Principal Investigator of the Precision Engineering, Materials and Manufacturing Research Centre (PEM Centre) and the Mathematical Modelling Research Group at IT Sligo. She is also a Funded Investigator in 'I-Form' the national SFI Research Centre in Advanced Manufacturing. She is a member of the European Materials Modelling Council (EMMC), where she sits on the Expert Group for Translation, which promotes the application of materials modelling to solving industry problems.
Dr McAfee has collaborated with over twenty manufacturing companies in Ireland, the UK, and in other European countries, and her research has led to the implementation of various solutions to the reduction of waste and cycle time in material processing plants across Europe. She is currently active in the area of 'Green Vehicles' involving working on lightweighting of automotive materials and the application of autonomous technologies to electric vehicles for the promotion of car sharing in urban environments.
Most recently, Dr. McAfee was the top-scored successful applicant to a new research development initiative at IT Sligo, where her plan to significantly expand her research outputs over the coming years has been selected as a key strategic growth area for the Institute.