Maria Staunton, GMIT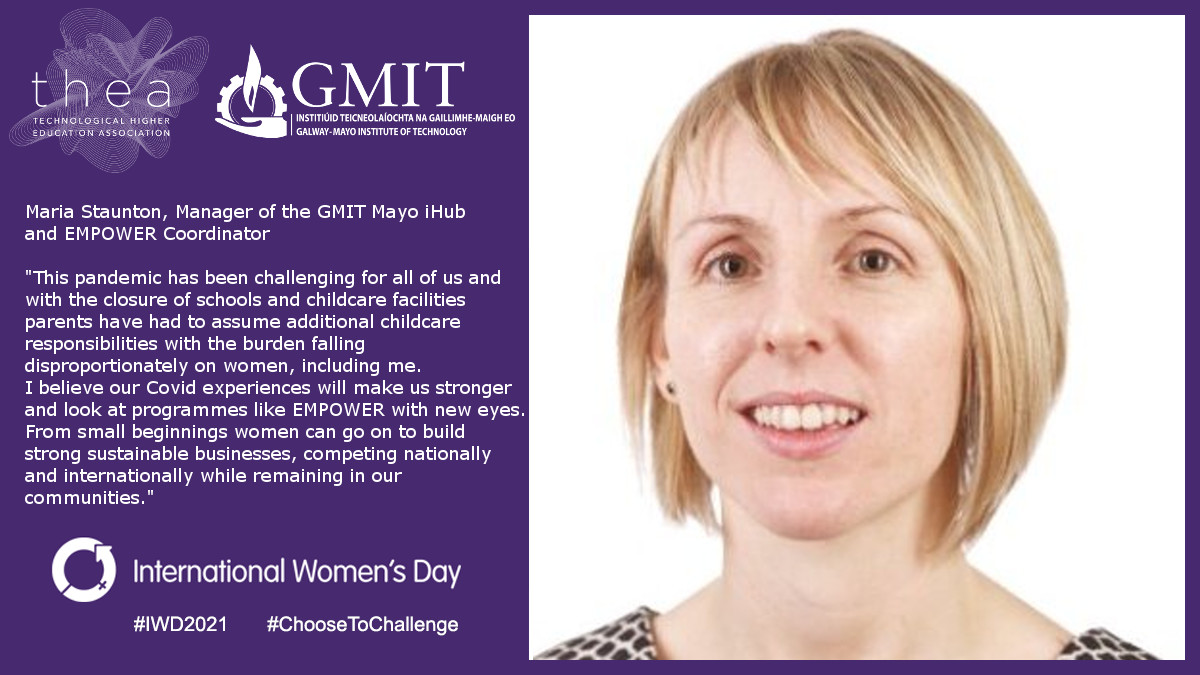 Maria Staunton, Coordinator of EMPOWER and Manager of the GMIT Innovation Hub at GMIT Mayo
Maria Staunton is Coordinator of EMPOWER, the women's entrepreneurship programme, and Manager of the GMIT Innovation Hub at GMIT Mayo. Maria holds a BBS and a Masters by Research (on Regional Innovation Systems).
Maria developed and rolled out the EMPOWER programme for women in the West and North-West of Ireland in 2017; 96 women have since completed the programme. In her role as Manager of the GMIT Innovation Hub since 2006, Maria has worked closely with start-ups, providing mentoring and advice, working with clients to secure external funding, research and innovation opportunities and graduates placements, and helping companies develop strategic plans for their companies. In that time, 11 companies have received HPSU investment, 20 companies transitioned to locations in the west, over 350 jobs have been created by the companies and over €20 million investment has been raised.
Maria helped establish a number of important outreach initiatives at the iHub such as Inc60, Mayo Open Coffee Club and the annual Spirit of Entrepreneurship event which attracts on average 250 people each year. This event was also nominated for a European Enterprise Award for promoting the entrepreneurial spirit in Mayo.
Maria also established an Entrepreneur in Residence (retired business people giving support for free to new start-ups) in the iHub. She was involved with a small team in establishing the Mayo Science Festival in Mayo back in 2007 and was involved in the West x North West (WxNW) HBAN Investor Network establishment.
She is a member of the Mayo Local Enterprise Office Evaluation Committee which selects companies for financial support, and in her spare time she chairs a Residents Committee, sits on Mayo GAA Fundraising Committee, delivers talks to women in sport and is heavily involved in business initiatives in Castlebar and Mayo.

Maria is recognised widely for her major achievements in sport. She was part of the Mayo Ladies All Ireland Winning Team in 1999 and Captained the Mayo Ladies to All Ireland Title in 2000 and an All Ireland Senior Club Medal with her club Carnacon.
"Working in the area of start-ups has opened my eyes to the reasons why women are more reluctant than men to start a business. Sometimes the support offered is aimed at export markets which puts women off as they want to focus on the home market. There is also the unconscious bias piece particularly if there are no females involved in investor groups or networking groups. Women often bootstrap their business from day one which often is a great thing. However scaling the business and growing the employee base can be curtailed due to cashflow."

"Setting up a business is very difficult for anyone but more often than not women have a tendency to underestimate their own abilities. If they have been out of the workforce or working part-time their can lack confidence. The EMPOWER Programme works hard at building confidence and empowering each other. With GAA it's a similar ethos with role models constantly reminding you that 'if you cannot see it, you cannot be it'."

"Bringing more women business owners into the marketplace will lead to greater numbers being influence to start their own business, boosting regional economic growth and stability, particularly in rural communities like ours in the West and North-West."

"This pandemic has been challenging for all of us and with the closure of schools and childcare facilities parents have had to assume additional childcare responsibilities with the burden falling disproportionately on women, including me."

"I believe our Covid experiences will make us stronger and look at programmes like EMPOWER with new eyes. From small beginnings women can go on to build strong sustainable businesses, competing nationally and internationally while remaining in our communities."
#IWDResilience #ChooseToChallenge