Prof Margaret Linehan, MTU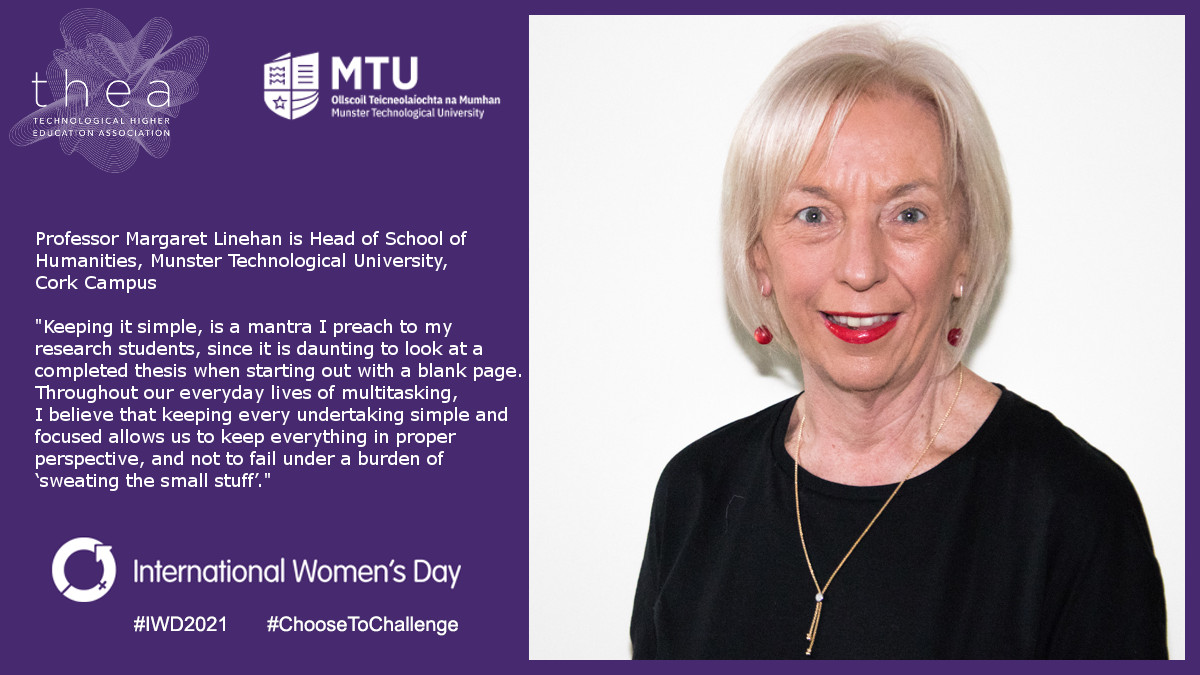 Professor Margaret Linehan, Head of School of Humanities, MTU, Cork Campus
Professor Margaret Linehan, BBS, MBS, PhD, is Head of School of Humanities, at Munster Technological University, Cork Campus. Margaret is the author of over sixteen academic textbooks and has published over seventy articles in peer-reviewed journals, together with presenting her research findings at numerous national and international conferences. Her first book which examined the senior female international career move published by Ashgate (UK) was also translated into Slovene. She has published research in various fields, including women in international management, expatriation and repatriation of female executives, higher education, work-based learning, human resource management, leadership and librarianship, and work-family conflict.
Margaret is also founder and co-editor of the Irish Business Journal, a peer reviewed journal, which is now in existence for fifteen years. She is also on the editorial board of many international journals. Margaret is a Council member of the Irish Academy of Management and is currently the International Liaison Officer for the academy. Margaret was presented the award of Companion of the British Academy of Management in "recognition for outstanding contribution to the field of Management".
She has supervised various research Master and PhD postgraduate students, and is currently supervising two PhD students, and two Master students. She has acted as external examiner in various institutions in Ireland and abroad and is currently external examiner at the University of the West of Scotland. Through her involvement in various working groups and committees, both in MTU, and externally, she advocates for equality, diversity, and inclusion issues.
A Woman is like a tea bag; you never know how strong it is until it's in hot water.

Eleanor Roosevelt

"When I was asked to write about resilience, I thought about what resilience means, and various types of resilience, and its relevance for International Women's Day. Developing resilience is both complex and personal. In terms of personal and professional success, research has shown resilience is as important, if not more important than, talent.

"While everyone is facing unprecedented challenges during the current global pandemic, Covid-19 is typically having a greater negative impact on women, as many of them have taken on additional unpaid, care-giving tasks, requiring even more multitasking and for increasingly long hours. This underscores that resilience is more important than ever now. A further worrying trend, which emerged during the pandemic, is the sharp increase in the number of women and children seeking support from domestic-violence services, with numbers steadily increasing month on month.

"In 2000, when I published my first book, Senior Female International Managers: Why so Few? — based on interviews conducted with fifty senior female international managers in Ireland and mainland Europe — the theme of resilience emerged as a fundamental characteristic of all the interviewees. Two decades on, this characteristic is still essential for women to succeed in any path they choose. The women I interviewed reported that they had to constantly prove themselves and to work twice as hard as men to reach the top of their chosen professions. They also spoke about sexual harassment, being treated differently because of being a woman, the burden of being a 'token' woman, and a lack of female role models: all of which reinforce the need for women to be resilient.

"On a personal level, my motto for resilience is: 'Keep it Simple'. I have a sign in my office displaying these three powerful words. Keeping it simple, is a mantra I preach to my research students, since it is daunting to look at a completed thesis when starting out with a blank page. Throughout our everyday lives of multitasking, I believe that keeping every undertaking simple and focused allows us to keep everything in proper perspective, and not to fail under a burden of 'sweating the small stuff'.

"I believe that being physically and socially active helps to build resilience. Every morning, I start my day with a forty-five-minute run. This helps to clear my head and to start each day in a positive manner, as well as providing me time to think without interruptions. Physical health is vital for mental health, so, regardless of weather conditions, I exit the front door early on 365 days a year! At the end of my working day, I also go for a walk with my husband, which allows me to unwind and to enjoy positive endorphins from more exercise and fresh air.

"I believe that being socially active is another important factor in being resilient, and this can be achieved in both professional and general settings. Switching off from work and spending time with family and friends is very important to me. Obviously, during the pandemic it is not possible to meet directly with friends but being part of a few WhatsApp groups is certainly a substitute.

"Through my work with various groups and committees, I have the privilege of working with talented colleagues on several initiatives that promote the Equality, Diversity and Inclusion (EDI) agenda of Munster Technological University (MTU). Some of these working groups include:

Period Poverty — lobbying for free feminine-hygiene products to be available on campus.

Active* Consent — promoting consent, and tackling sexual violence and sexual harassment, with the aim of having zero tolerance for any unwarranted actions across MTU, and the wider society.

MTU Investigates — I co-hosted panel discussions with survivors of both Mother and Baby Homes and Magdalene Laundries, giving these women a voice on public fora, voices that were silenced far too long. These discussions illustrated to our students what resilience really means.

"Liaising with the Cope Foundation, I am privileged to be part of an Advisory Group for Ability@Work, aiming to source employment for people with intellectual disability and/or autism. I also deliver Advocacy workshops for persons supported by the Cope Foundation, helping them to stand up for themselves, and to become more resilient.

"My work with the homeless in Cork provides me with a direct insight to what being resilient really means, and women who are homeless can certainly teach us a lot in relation to being resilient. One of these women, who was living in a tent, got up early every morning to get to a hostel to have a shower before heading to her workplace. For me, this is resilience in action."
#IWDResilience #ChooseToChallenge