Dr Johanna Archbold, AIT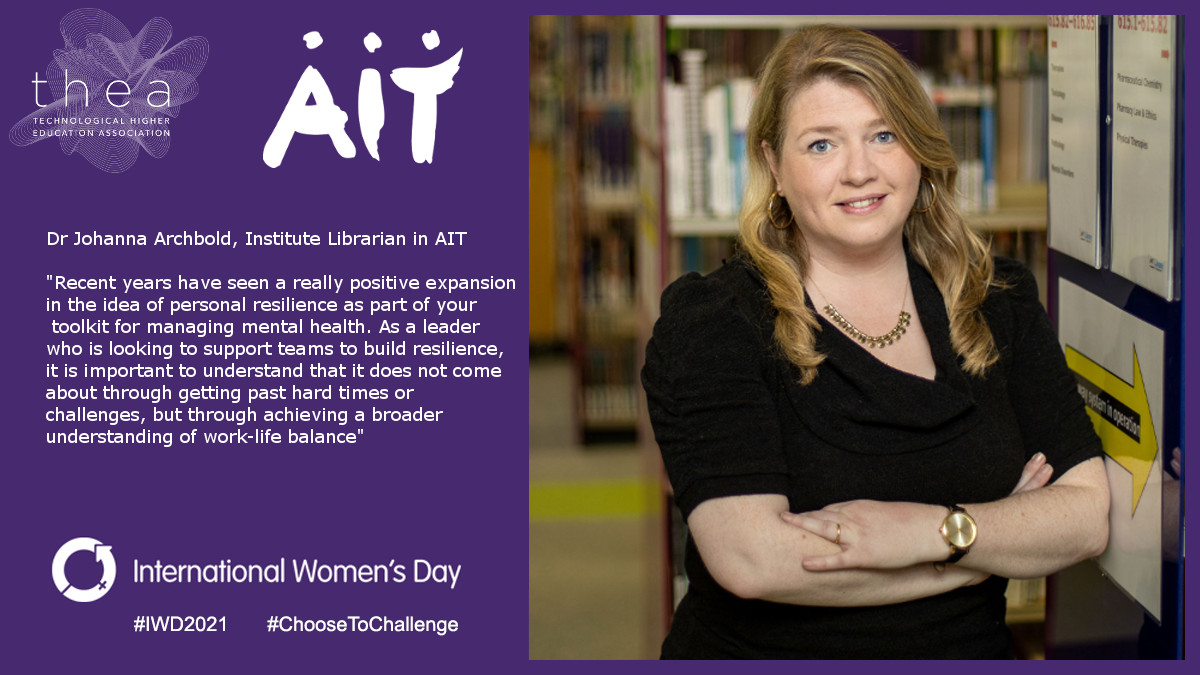 Dr Johanna Archbold, Institute Librarian, AIT.
Johanna is a librarian and historian with over a decade of experience in research, academic libraries, research funding and creative enterprise. She joined AIT from RCSI Library where she focused on bringing innovation into front of house space and service provision, relationship-building across the organisation and coordinating library communications. She managed the Customer Service team through planning and transition to the award-winning RCSI Education Building, 26 York Street, and was part of the team winning the SCONUL Library Design Award 2019.

Outside libraries, Dr Archbold has been a Research Fellow in the Trinity Long Room Hub Arts & Humanities Research Institute, worked as Enterprise Programmes Research officer in the Irish Research Council and been a member of the leadership team in Block T, a start-up creative enterprise in Dublin. Johanna has published on her research area of book history and spoken nationally and internationally on librarianship, print culture and creative enterprise.

In 2016 Johanna co-held a Research Award from CONUL, the Consortium of National and University Libraries, with Michelle Breen, UL and has previously been awarded funding from the HEA, Trinity College Dublin and the Library Company of Philadelphia among others for historical research. In 2013 she was awarded the David Manley Emerging Arts Entrepreneur Award with Block T.

Johanna has a PhD in 18th century print culture from the Centre for Irish-Scottish & Comparative Studies, Trinity College Dublin, a Masters in Library & Information Studies (UCD) and a Certificate in Data Management & Analytics (DBS).
Challenging Stereotypes & Resilience
Completing my PhD in Trinity at 26 meant that I was a young bubbly blonde woman presenting myself as a historical authority on my topic of 18th century print culture. As not the stereotypical vision of what an 'historian' should look like, I realised quickly that it was very difficult for some people to take me seriously as historians should be "men who wear tweed blazers with leather patches".

Despite being hugely fortunate to be in a broadly supportive environment, and benefiting from brilliant supervisors, I realised that I also had this stereotype of what a historian should look like to the point that I did not see myself as a serious contender for history jobs on graduation. Reflecting back on what was influencing my thinking at the time, I would strongly recommend to women in fields where they may not look like the expected expert in that field, to find others, male or female, to discuss your expertise and experience in the context of your field to get more realistic input on your perception of self.

Recent years have seen a really positive expansion in the idea of personal resilience as part of your toolkit for managing mental health. This is a great development as this language was not commonplace even a decade ago. As a leader who is looking to support teams to build resilience, it is important to understand that it does not come about through getting past hard times or challenges, but through achieving a broader understanding of work-life balance.

I went for multiple years never taking a holiday or a proper break, thinking that as there was always research or reading to do, I needed to at least try to have it with me at all times. Proximity to potential productivity is not the same as actual productivity. My best advice to anyone looking to build their own toolkit for resilience is to figure out how to give yourself 'permission' to drop everything – your work, your relationships and your sense of self will benefit.
#IWDResilience #ChooseToChallenge