Frances Cleary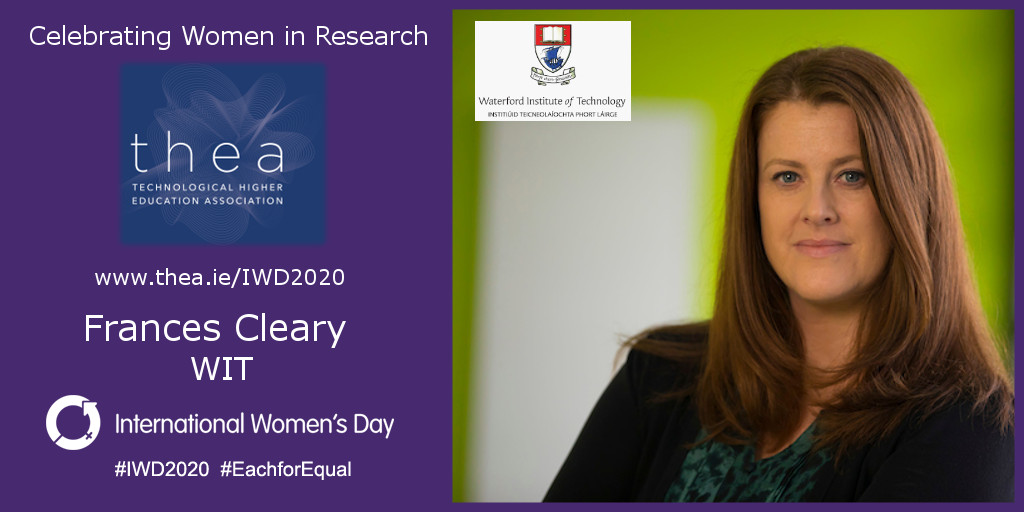 International Women's Day 2020: Frances Cleary, Research is Division Manager, Mobile Ecosystem and Pervasive Sensing Group (MEPS), Telecommunications, Software & Systems Group (TSSG), Waterford Institute of Technology
Frances has actively worked in a research role in the Telecommunications Software and Systems group in WIT for over 15 years. During this time Frances has worked in various roles from project coordinator to technical lead. Since joining WIT-TSSG Frances has worked in the following main thematic research areas Pervasiveness in converged telecommunications, Internet of things, Internet of Bio-nano things, ICT healthcare innovations, Smart mobility/transport. Frances also has multiple years of experience as a EU Project coordinator of EU funded research projects that relates to Trust, Security and Privacy actively linking directly with the European commission to successfully lead projects to completion and with an impactful output.
Frances' research interests are extending into various ICT technologies of relevance to the healthcare sector with a specific focus on etextiles, nano devices/nanonetworks and terahertz communications.
Currently Frances actively leads a growing Research Division that has expertise relating to Internet of things, Mobile Services, Pervasive Sensing, Embedded Systems Communications and Bio-Nano Communications. The Unit specifically focuses on new innovations and application of new emerging technologies across the Health and Transport verticals. Frances actively guides the strategic research direction of the MEPS research Division and has had numerous funding successes at national and EU H2020 level.
Frances is also active in multiple industry and commercial focused projects and engagements, driving new innovations from concept right through to products.
Prior to her role in TSSG-WIT, Frances graduated from Waterford institute of technology (Electronics Engineering) and worked as a Software developer and Test Engineer in Ericsson Ireland Ltd, where she gained valuable Industry experience that has benefitted her greatly in her current role.