Christina Boland, MTU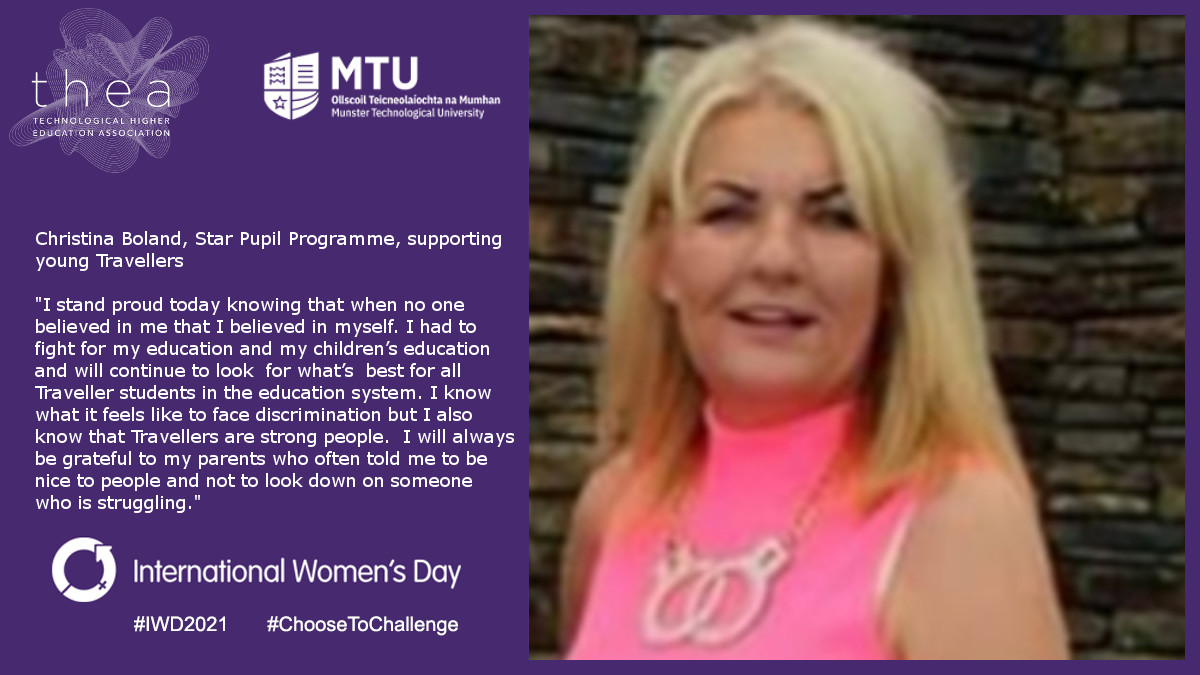 Christina Boland, Star Pupil Proramme, Supporting young travellers to stay in education, MTU, Kerry Campus
My name is Christina Boland I am one of 9 children born into a Traveller family of hard workers with very little education. My parents sent me to St. Oliver's Primary School in Killarney, Co. Kerry in those times we left school in 6th class. When I left school, I was still eager to learn to read and write properly but life took over and I got married. I now have two beautiful children who are married and one precious granddaughter. I reared my children with the support of my family, but I knew the only way they would have a real future was for me to go back to education and find work. My family didn't agree with me at the time and thought that I needed to stay home and look after my children but I was determined to follow this through I went to the Travellers Education Centre in Killarney. I found that every day was boring because 2 years later I was still reading the same books and cooking the same queen cakes etc. I asked the Training Centre if they could introduce the Leaving Certificate. Some students took up this option but I was afraid I would fail so I never applied.
I eventually got a job in the Homework Club where my own children attended and it was here that I became more aware of the lack of education in my community and this inspired me to start working in education. I applied for a Community Employment job and completed a computer course and later did a Community Development and Parenting course. I then heard about the Munster Technological University (IT Tralee) were looking for someone to work with Travellers as a Traveller Access Officer, so I applied and am still here today 10 years later.
I currently work with the Star Pupil Programme which supports and encourages young Travellers to stay in school and complete the Leaving Certificate. I liaise with the schools to get the best supports in place for each student in the subjects they struggle with. Part of the Star Pupil programme is to find a summer work placement so that students can see what it's like to have a job and feel independent. I also help them apply for College courses and support them apply for grants, bursaries etc. Some students needed support approaching their families to discuss attending college. I am grateful to have helped many students who have attended MTU but it is important to note that it was their own dreams that made them become Chefs, Managers, Actor's and Nurses etc.
I have also been involved in organising courses and training for adults in our community so that they can support their family through education. With the Covid 19 pandemic life is hard for Traveller students with little support, who often have no private place to study and feel isolated. Some have no access to the internet so keeping up to date is much harder for them. I try to encourage them to be proud of being a Traveller because hiding their identity is a big struggle in moving forward.
I want to thank the team of people I work with who support me every day and believe in making education assessable for all students, no matter what culture or back ground they come from. I stand proud today knowing that when no one believed in me that I believed in myself. I had to fight for my education and my children's education and will continue to look for what's best for all Traveller students in the education system. I know what it feels like to face discrimination but I also know that Travellers are strong people. I will always be grateful to my parents who often told me to be nice to people and not to look down on someone who is struggling. If you are a Traveller reading this today and feel like giving up just remember I was there and I'm so glad that my work has inspired people to put my name forward and this feels like a very proud moment to someone who thought no one believed in her.
#IWDResilience #ChooseToChallenge