Dr Breda O'Dwyer, MTU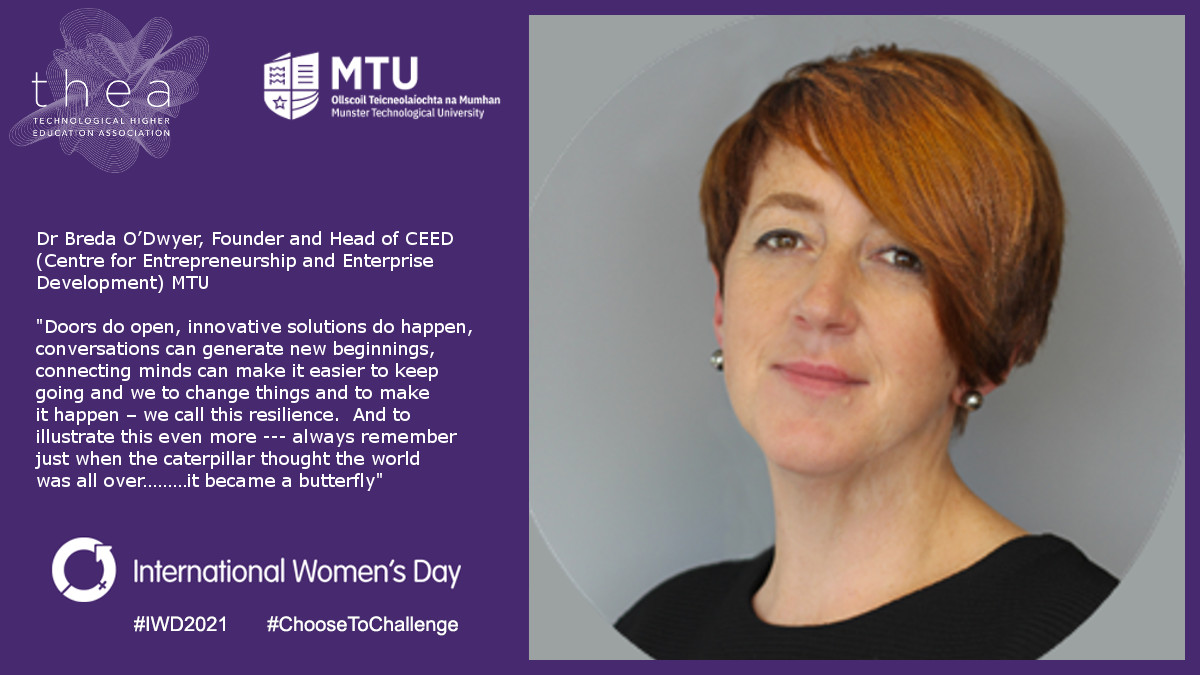 Dr Breda O'Dwyer, Founder and Head of CEED, MTU Kerry Campus
Breda is founder and Head of CEED (Centre for Entrepreneurship and Enterprise Development) at Munster Technological University. She holds a BBS, MBA, PhD, NCEE Fellow in Entrepreneurship, Harvard University Certificate in Problem Based Learning and is Vice President for Education and Practitioner Learning with ISBE.Research at CEED is underpinned and led by the opportunities created through the application entrepreneurial mind-set within, across and between disciplines.
Fostering a culture that welcomes a meeting of the minds – be that between research centres, between teaching and research, between private and public, between HEIs, private and public, between HEIs, between countries requires agility and being extremely comfortable with the unknown. It requires to be willing to admit to not knowing all of the answers but to be willing to learn. An entrepreneurial mind-set looks beyond the singular outcome of setting up a business and sees it as generating many other innovative outcomes.
It invites, welcomes and builds on connecting different intelligences and creating value added innovative solutions that add value to the self and others. It requires leading from within and knowing and being very comfortable with our concept of our self. This allows us to dare to engage in challenging conversations with a view to making significant contributions because we have developed and continue to develop on sense of self-believe, self-confidence, self-efficacy and most importantly a deep sense of our locus of control.
The entrepreneurial mind-set will allow us to become the transformational leaders of tomorrow. It encourages us to think outside the box, to think differently, to think collaboratively and most importantly to think beyond the known. It encourages us to explore, to learn to unlearn, to fall down and to get up, to try again, to reengage with our child's mind of our innate sense of curiosity. As a child if one way did not work, we tried another. The entrepreneurial mind- set – began way back in our early childhood days where we welcomed the unknown and learned to explore and to learn that we could get up when we fell down and move on. We each did it our own way – using our own individual entrepreneurial mind-set. Re-engaging with our entrepreneurial mind-set provides us with a whole new landscape of opportunity. Yes – not every idea will work – not every door will open – not every conversation will be a positive one – not every connection will work out – not every solution will grow – but – others do. Doors do open, innovative solutions do happen, conversations can generate new beginnings, connecting minds can make it easier to keep going and we to change things and to make it happen – we call this resilience. And to illustrate this even more --- always remember just when the caterpillar thought the world was all over………it became a butterfly!
#IWDResilience #ChooseToChallenge